Welcome to Mer-Made Filter

Crystal-Clear Water Starts Here


Contact Us
About Mer-Made Filter
Mer-Made is a major provider of standard and custom-made commercial pool filtration products for the modern market. The company is headquartered in Denmark, South Carolina. The company produces the finest in commercial sand filter systems, fiberglass pool and industrial pump strainers, vacuum diatomaceous earth filters, modulating float valves, and many more innovative products.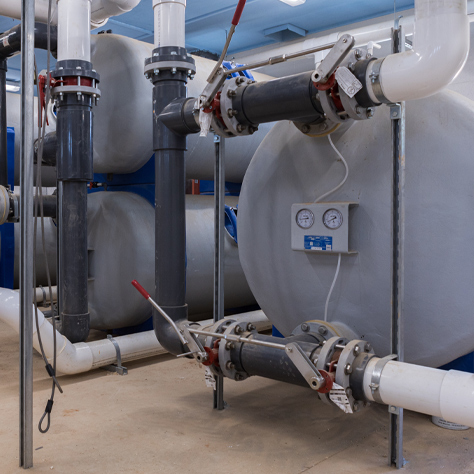 Mer-Made Filter's Fiberglass Commercial Pool Sand Filters
MER-MADE's rugged fiberglass tanks are a breakthrough in filter manufacture. These long life tanks are designed for 50 psi working pressure in three different diameters and a variety of lengths, with filter areas up to 81.6 square feet.

FIBERGLASS TANKS

Single tank
Dual tank
Multiple tank

SYSTEMS AVAILABLE
Featured Product
Mer-Made Fiberglass Surge and Balance Tanks
Fiberglass surge tanks are superior to any other material because it is extremely corrosion resistant.Surge tanks are generally required on gutter pools to allow a "storage" space for water displaced by swimmers. The preferred arrangement is to hold-back ("modulate") the water from the main drain pipe so that water entering the gutters can flow to the surge tank and not back up in the pool. This is done with a float ball control on a butterfly type valve mounted on the main drain line. Modulating the main drain line insures that the debris that normally accumulates on the surface of the pool will be swept quickly to the filters. The schematics below show the general arrangement of various type surge systems. The surge tank can be a built in place concrete vault or a closed top tank, vented to a point above pool water level. It is also common to find vacuum D.E. filter components installed in a field constructed concrete tank which also acts as a surge tank. The volume of water that can be stored in the space between the normal water level in the surge tank and the pool water level is the surge capacity of the tank.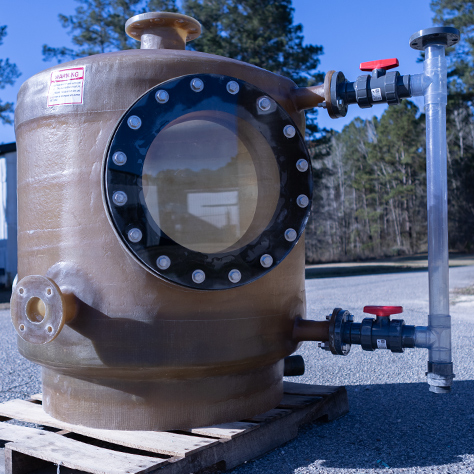 Featured Product
Mer-Made Filter Fiberglass Strainer Baskets Housings
The basic design and configuration of our strainers can be upgraded for use in extreme temperature, pressure and corrosive environments. Premium vinyl ester (2 words) resins are suitable for up to 260 F fluids. Extreme variations from acid to alkali are easily handled. Bolted and gasketed fiberglass lids are used for higher temperature and higher pressure applications. Baskets are available in duplex stainless steel, Monel, Hastelloy and titanium. Numerous perforation configurations - change to (opening sizes) are available.