100 Series Commercial Pool Chemical Treatment Controller

By Pool Link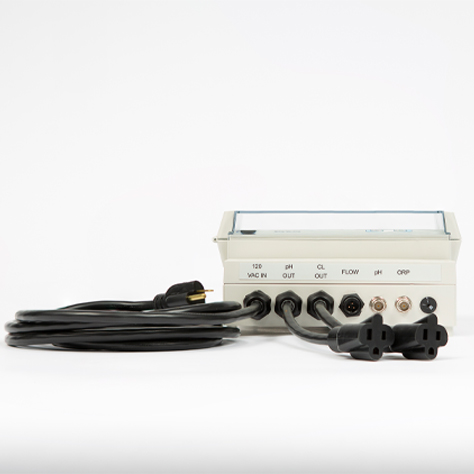 PROVIDES WATER THAT IS CONSISTENTLY BALANCED AND PLEASANT FOR SWIMMERS
Specifically designed for commercial pools and spas. PoolLink® 100 Series automates control of pH and ORP/ ppm levels. A specialized microcomputer is at the heart of every PoolLink®. This technology allows the controller to perform complex and exceptionally accurate control functions with the added benefit of versatility, easy set-up, and operation. PoolLink® 100 series is reliable and on duty 24 hours a day, 7 days a week, all year long.
PoolLink® 100 Series performs continuous monitoring and correction of pH and sanitizer according to your present levels. Incremental testing and treatment, based on this demand, is called proportional dosing, Proportional dosing results in far more precise and economical water treatment than manual and set-point systems can provide.

PoolLink® 100 Series will provide water that is consistently balanced and pleasant for swimmers. It will reduce the time spent manually testing and correcting pool chemistry, freeing time for other duties. Because proportional dosing reduces changes in chemistry which use or require more chemicals, operations often see reductions in chemical use of 20 to 40%.

All choices and values are entered with a simple 4 button keypad. The Liquid Crystal Display (LCD) shows the current pH, ORP and CI/ppm. Dosing action being taken by the controllers is also displayed on the LCD.