132 Commercial Pool Sand Filter System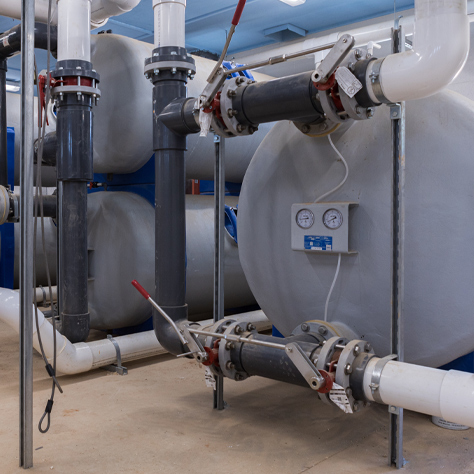 Standard Features
10 sq. ft. to 23.7 sq. ft. of filter area
(2) tank support saddles
Manufactured with a minimum wall thickness of 0.3"
50 psi working pressure with a safety factor of 4 to 1 and tested to 75 psi
(1) 12 X 16 gasketed man-way sealed by internal pressure
4″ sch 40 PVC slotted under-drain headers
4″ sch 80 PVC inlet header with diffusers

MER-MADE's rugged fiberglass tanks are a breakthrough in filter manufacture. These long life tanks are designed for 50 psi working pressure in three different diameters and a variety of lengths, with filter areas up to 23.7 square feet.
| Title | Size | |
| --- | --- | --- |
| Mermade Filter 132 Commercial Sand Filter Single Saddle Dimensions | 70.53kB | Preview Download |
| Mermade Filter Fiberglass Commercial Pool Sand Filter Model 132 Operation and Maintenance Manual | 371.82kB | Preview Download |
| Mermade Filter Fiberglass Commercial Pool Sand Filter Model 132 Stacked Overall Dimensions | 67.71kB | Preview Download |
| mermade-filter-horizontal-commercial-fiberglass-pool-sand-filter-systems | 934.02kB | Preview Download |
| Title | Size | |
| --- | --- | --- |
| Mermade Filter Fiberglass Commercial Pool Sand Filter Model 132-114 Right Manway Dimensions | 228.27kB | Preview Download |
| Mermade Filter Fiberglass Commercial Pool Sand Filter Model 132-114 Left Manway Dimensions | 231.09kB | Preview Download |
| Mermade Filter Fiberglass Commercial Pool Sand Filter Model 132-114 End Manway Dimensions | 224.81kB | Preview Download |
| Mermade Filter Fiberglass Commercial Pool Sand Filter Model 132-94 Right Manway Dimensions | 225.11kB | Preview Download |
| Mermade Filter Fiberglass Commercial Pool Sand Filter Model 132-94 Left Manway Dimensions | 226.41kB | Preview Download |
| Mermade Filter Fiberglass Commercial Pool Sand Filter Model 132-94 End Manway Dimensions | 223.97kB | Preview Download |
| Mermade Filter Fiberglass Commercial Pool Sand Filter Model 132-74 Right Manway Dimensions | 227.17kB | Preview Download |
| Mermade Filter Fiberglass Commercial Pool Sand Filter Model 132-74 Left Manway Dimensions | 230.86kB | Preview Download |
| Mermade Filter Fiberglass Commercial Pool Sand Filter Model 132-74 End Manway Dimensions | 223.45kB | Preview Download |
| Mermade Filter Fiberglass Commercial Pool Sand Filter Model 132-64 Right Manway Dimensions | 225.42kB | Preview Download |
| Mermade Filter Fiberglass Commercial Pool Sand Filter Model 132-64 Left Manway Dimensions | 227.90kB | Preview Download |
| Mermade Filter Fiberglass Commercial Pool Sand Filter Model 132-64 End Manway Dimensions | 225.27kB | Preview Download |
| Mermade Filter Fiberglass Commercial Pool Sand Filter Model 132-52 Right Manway Dimensions | 228.41kB | Preview Download |
| Mermade Filter Fiberglass Commercial Pool Sand Filter Model 132-52 End Manway Dimensions | 226.40kB | Preview Download |
| Mermade Filter Fiberglass Commercial Pool Sand Filter Model 132-52 Left Manway Dimensions | 225.62kB | Preview Download |