T-Style Fiberglass Pump Strainer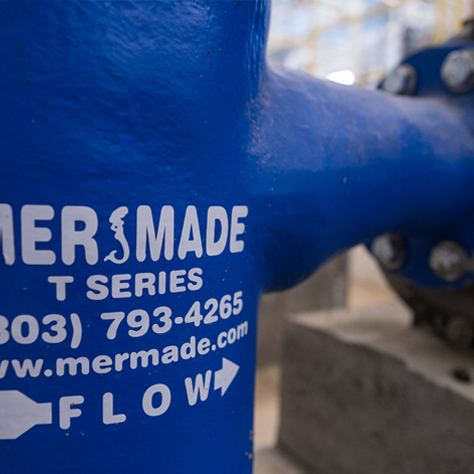 Fiberglass Pump Strainers for Corrosive, Chemical Resistant Industrial Application
The basic design and configuration of our strainers can be upgraded for use in higher temperature, pressure and corrosive environments. Premium vinyl ester resins are suitable for up to 260 F fluids. Extreme variations from acid to alkali are easily handled. Bolted and gasketed fiberglass lids are used for higher temperature and pressure applications. Baskets are available in duplex stainless steel, monel, hastalloy, and titanium. Numerous perforation configurations are available.
| Title | Size | |
| --- | --- | --- |
| Mermade Filter 14 Inch x 12 Inch T-Style Eccentric Reducing FRP Strainer Basket Dimensions | 58.58kB | Preview Download |
| Mermade Filter 14 Inch x 10 Inch T-Style Eccentric Reducing FRP Strainer Basket Dimensions | 59.06kB | Preview Download |
| Mermade Filter 14 Inch x 10 Inch T-Style Concentric Reducing FRP Strainer Basket Dimensions | 59.09kB | Preview Download |
| Mermade Filter 14 Inch x 12 Inch T-Style Reducing FRP Strainer Basket Dimensions | 58.36kB | Preview Download |
| Mermade Filter 14 Inch x 6 Inch T-Style Eccentric Reducing FRP Strainer Basket Dimensions | 59.09kB | Preview Download |
| Mermade Filter 14 Inch x 8 Inch T-Style Concentric Reducing FRP Strainer Basket Dimensions | 58.90kB | Preview Download |
| Mermade Filter 14 Inch x 8 Inch T-Style Eccentric Reducing FRP Strainer Basket Dimensions | 58.86kB | Preview Download |
| Mermade Filter 16 Inch x 14 Inch T-Style Eccentric Reducing FRP Strainer Basket Dimensions | 61.11kB | Preview Download |
| Mermade Filter 16 Inch x 8 Inch T-Style Eccentric Reducing FRP Strainer Basket Dimensions | 59.87kB | Preview Download |
| Mermade Filter 16 Inch T-Style FRP Strainer Basket Dimensions | 57.07kB | Preview Download |
| Mermade Filter 16 Inch x 12 Inch T-Style Eccentric Reducing FRP Strainer Basket Dimensions | 60.03kB | Preview Download |
| Mermade Filter 14 Inch x 12 Inch T-Style Concentric Reducing FRP Strainer Basket Dimensions | 58.82kB | Preview Download |
| Mermade Filter 16 Inch x 10 Inch T-Style Eccentric Reducing FRP Strainer Basket Dimensions | 59.88kB | Preview Download |
| Mermade Filter 14 Inch T-Style FRP Strainer Basket Dimensions | 55.33kB | Preview Download |
| Mermade Filter 14 Inch x 6 Inch T-Style Concentric Reducing FRP Strainer Basket Dimensions | 59.04kB | Preview Download |